This page is dedicated to the wonderful feline kids who have touched my heart and enriched my life over the years. They are listed opposite the order in which they adopted me (i.e., most recent are first).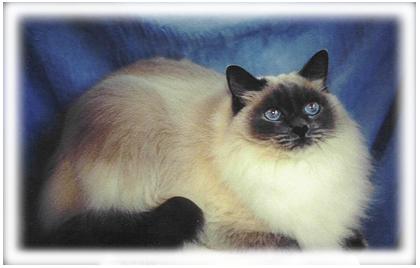 This beauty is named Duchess. She is a domestic longhair spay (looks a bit like a blue colorpoint Ragdoll though, doesn't she?). The story of Duchess adopting me began one day when I went to the animal shelter in with a friend who was looking for a dog. Well, I just had to walk through the cat wing and there was this beautiful girl sitting alone in her cage. The poor thing was so confused – her owners had simply turned her in to the shelter without giving a reason and she was completely terrified. I couldn't bear the thought of her being euthanized so I went back to get her the next day with the intention of finding her a good home…a plan which never quite worked out because I fell in love with her. Duchess was a real sweetheart, but was obviously mistreated by a previous owner as she was always quite reclusive and preferred the quiet parts of our home. This great girl had a beautiful silky coat that never matted and what magnificent eyes! Duchess spent more than 12 years with me before crossing the Rainbow Bridge. What a special girl…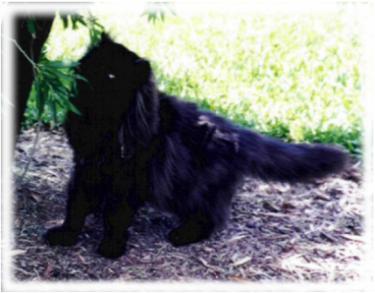 This gorgeous Persian is Munchkin. Munchkin was given up by his family who moved to another state and left him behind. I also found this sweet guy at the animal shelter when I lived in Mesa. Munch was the most loving cat you can imagine – he would often raise up, put his front legs on the wall, then look to me and "meow" until I picked him up. Then he would lean backward until he was virtually hanging upside-down so that I could scratch his tummy while he stretched and yawned. When I occasionally went out of town, he insisted on sleeping with his face pressed against my ear for the first couple of nights after I returned. Although Munchkin was an indoor kid, he loved an occasional (supervised) trip outside. Munchkin passed away in June, 2000 from old age. He was such a sweet old guy.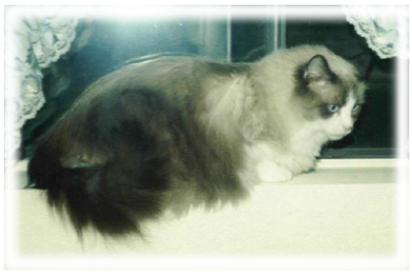 This is Kachina, my first Ragdoll and the reason I am so devoted to the breed today. She came to live with me when she was 6 years old and was the most amazing cat I've ever encountered. She definitely ruled the roost and was smarter than a lot of humans I've known. She loved music and would "sing" along with her favorites (Enya and Sarah MacLachlin were two special favorites for her). Kachina was my soulmate kitty – I swear she could read my thoughts and always seemed to truly understand what was going on around her. But she wasn't above a little trickery or intimidation to get what she wanted from the other cats (or from me either, for that matter). Kachina died of Vaccine Associated Feline Sarcoma (VAFS) in September, 1999. I still miss her.