DixieWillow Jellybean
Jellybean is a seal mitted girl and one of the best mommies ever.  She is definitely Skyler's daughter and has his combination of sweetness and mischief.  Jelly never lets anyone do anything alone and always has to know exactly what you're doing so she can try to help.

.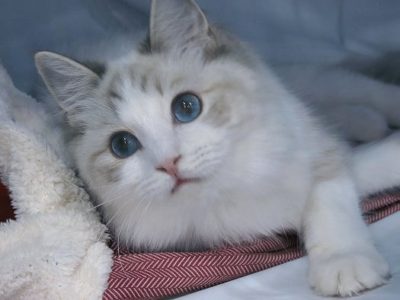 DixieWillow Sophie

DixieWillow Sophie is a blue lynx bicolor girl and an absolute carbon copy of her daddy, Skyler.  Sophie is as sweet as she looks and one of the most easy-going gals around.  We love this girl's soft-hearted personality and gentle nature.

.
DixieWillow Sing a Little Song (aka, Melody)
Melody is sort of the big sister to some of the other girls.  She's a perfectly marked blue lynx mitted and has such a calm presence.  Mel loves to be petted and won't be left out, but will politely wait her turn and then looks at you as if to say "Thank you, that's just what I needed."  She's a lovely girl and we just adore everything about her.

.
DixieWillow Tootsie Roll
Tootsie is a young seal mitted gal with a beautiful hourglass blaze.  She likes to roughhouse with anyone who'll play with her, but also has a sweet, cuddly side when it's bedtime.  Lots of nights, I wake up to find her tucked in just as close as she can get.

.
DixieWillow Shelby
Shelby is a seal tortie mitted girl with a blaze and definitely has the typical princess attitude of most torties. When she wants to be loved, you might as well just stop whatever you're doing.  Shelby was named by my sweet, artistic friend, Maggie, who loved Shelby's beautiful coloring.  Sadly, Maggie passed away unexpectedly, but I think of her whenever I look at Shelby…and I can almost hear Maggie laugh when Shelby gets in trouble.