This page is a work in process, please check back.
This page is dedicated to the wonderful Ragdolls that have shared our lives and given us our beautiful Ragdoll cats and kittens.  Each of them played a special role in our Ragdoll journey and holds a special place in our hearts.
Whether living out their years as a pampered pet in someone's home or still being spoiled by us, each girl or guy pictured below has been a true Ragdoll treasure.  We've been raising Ragdolls for nearly 20 years so inevitably, as time marches on some of these precious kids have crossed the Rainbow Bridge and are now kitty angels.
Our Ragdoll Grandmas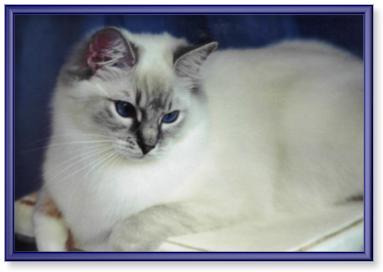 TICA SE Region's 2nd Best Blue Lynx Mitted 2001-2002
This lovely girl is Champion Ritzyrags Elsa Blue of Dixie Willow, a blue lynx mitted from Supreme Grand Championship lines. In addition to being beautiful, Elsa is the most inquisitive feline around. She has to be wherever you are and is not satisfied to simply be nearby, she has to be right in the middle of whatever is going on at the time. From watching television to paying bills, Elsa insists on having a front row seat. She is also a real cuddle-bug and loves to be spoiled. Thank you Serge and Carol Marechal for this spectacular girl.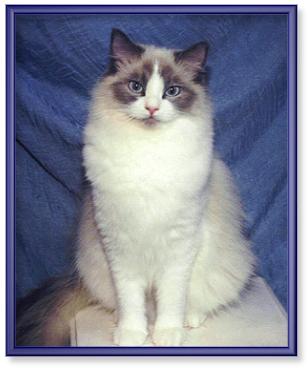 This sweet girl is Katie Scarlett of Dixie Willow, a blue bi-color. Although not perfectly marked for the show ring, Katie has one of the sweetest personalities we've ever seen. She was also blessed with an amazing coat – very long and silky, virtually no shedding and completely non-matting. Katie loves to snuggle and will often wake you up at night purring and "making biscuits" with her paws. She also has a favorite mouse toy and will play fetch for hours (or until someone hides the mouse from her). Thank you Sharon for this sweet, sweet girl.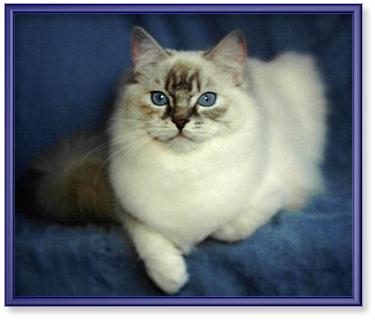 TICA's Best Blue Mitted Torbie Internationally 2002-2003
This pretty girl is Champion Dreamdolls Tassels of Dixie Willow. Tallie is a blue mitted torbie. She won't achieve full color for some time, but we are seeing a lot of beautiful peach shading on her ears, tail and body as she matures. She's growing up to be such a wonderful girl – long body, great muzzle and the sweetest personality. Tassels sleeps on my pillow most nights and will often wake me up in the morning by "washing" my face. She and Elsa are great buddies and we now have two constant "kitty cat shadows" with both girls right on our heels for almost every step. Thanks again to Julia and Gary Dent.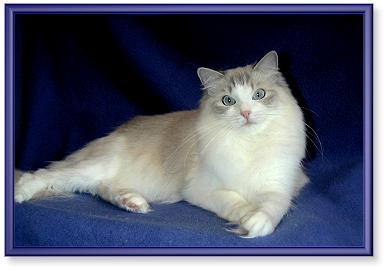 This is Dixie Willow's Abigail Grace, a blue lynx bicolor. Gracie is one of those special furkids who was simply beautiful from the time she was born. She never went through the awkward stages that most kittens encounter. That angelic face belies her mischievous nature though. Gracie is so inquisitive and funny, she wants to know what everyone is doing and expects our "down-time" to be spent pampering her. She always meets us at the door with a look of "So what did you bring me?" and insists on going through all the shopping bags as soon as we arrive home. Gracie's first litter of kittens included Gilligan, Fancy, Sebastian and Doc (on the Kittens page).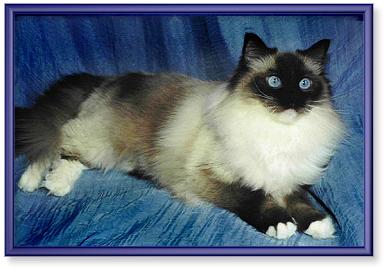 Sassie of Dixie Willow is a seal mitted female. Sassie is the matriarch of the Dixie Willow girls and keeps everyone else in line. She has beautiful eye color, great boning, and a nice coat. Sassie loves to sit on the window ledge and survey everything that happens, both indoors and outdoors. She is such a sweet lady and "talks" to us constantly with her soft, soothing mews. Sassie is one of the largest girls we had and she definitely passed her great traits on to her babies. Thanks so much Darla for allowing us to adopt your sweet Sassie girl.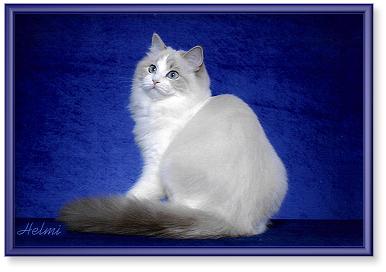 Champion Dixie Willow's Alexandra Rae is another blue lynx bicolor and the younger sister of Gracie, Clarence and Jasper. Lexie was only 6 months old in this picture. Like her big sister, Lexie has a sweet, innocent face that hides her precocious personality. This little girl is very stubborn and loves to wrestle with the biggest kids in our home and she often wins too. When she's not wrangling the bigger furkids, Lexie prefers to cuddle in the down comforter and gets quite annoyed if you make her move. Lexie's first litter included Dixie Willow's Command Performance (a.k.a. Kramer on the kittens page).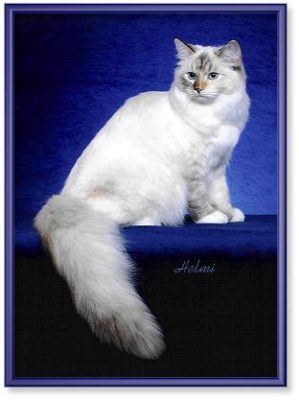 TICA's Best Seal Mitted Torbie Internationally 2004-2005
TICA's Best Seal Mitted Torbie Internationally 2003-2004
TICA's Best Seal Mitted Torbie Internationally 2002-2003
TICA SE Region's Best Seal Mitted Torbie 2002-2003
TICA SE Region's 2nd Best Ragdoll Cat 2002-2003
TICA SE Region's 17th Best Longhair Cat 2002-2003
RW Quadruple Grand Champion Dollvalley Jordan of Dixie Willow is a wonderful seal mitted torbie with a split-face marking (pictured here at 7 months of age). Jordan came to us from New York state and we've worked hard to teach her how to be a nice southern girl. Jordan is a very calm, sweet kid who loves to lay on her back in the middle of the living room floor. She oversees everything that happens in our home, but Jordan is much too regal for the rough-housing games of the kittens. She's had a very successful show career and we've looked forward to her days as a Mommy. Jordan has magnificent coat, solid boning and great size. Many thanks to Joe Lezoli for entrusting us with this very, very special girl.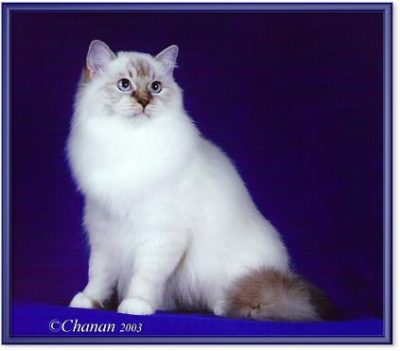 Dixie Willow Once in a Blue Moon (known as Misty around here) is a blue lynx mitted girl from Clarence and Sassie. Misty was only 8 months old in this picture and has always had that sweet, slightly grumpy face that just melts your heart. She definitely has a "princess complex" and doesn't hesitate to let you know anytime things aren't to her satisfaction (like if breakfast is late). Misty has brilliant blue eyes and a spectacular coat that feels just like goose down. At her very first TICA show, Misty was awarded a Best LH Kitten ribbon.


Our Ragdoll Grandpas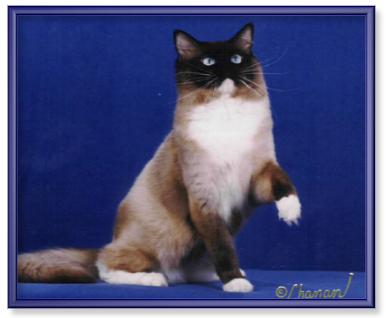 TICA SE Region's 2nd Best Seal Mitted 2001-2002
This handsome seal mitted guy is Champion Dreamdolls Moon Shadow of Dixie Willow, but we call him Bubba. He has wonderful markings and the sweetest disposition – purrs every time you touch him and always makes sure you can reach his tummy to scratch it. True to the Ragdoll standard, Bubba is very laid back and feels like a sack of flour when you pick him up. Bubba is a very special guy and we are forever thankful to Julia & Gary Dent for allowing him to move to Tennessee and for all of their guidance and support.
Click photo to enlarge!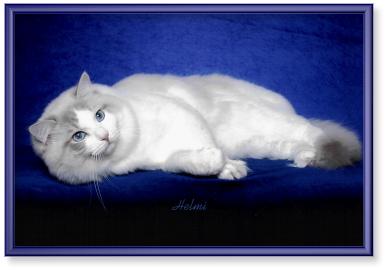 TICA's 3rd Best Ragdoll Kitten Internationally 2002-2003
TICA's 2nd Best Blue Lynx Bicolor Internationally 2002-2003
TICA SE Region's Best Ragdoll Kitten 2002-2003
TICA SE Region's 12th Best Allbreed Kitten 2002-2003
TICA SE Region's Best Blue Lynx Bicolor 2002-2003
This sweet boy is RW Triple Grand Champion Dixie Willow It's a Wonderful Life, a blue lynx bicolor, pictured here at 11 months of age. He has two nicknames "Clarence" after the angel in the movie he's named for and Snuffaluffagus after the laid-back, easy-going character on Sesame Street. Both names fit him perfectly. Clarence is such a mushy boy, he gives kisses all the time and purrs constantly. He is also one of the floppiest cats we've ever seen, loves everyone and has to be wherever I am at all times. Clarence's parents are Elsa and Bubba. As you can see from all of his Regional and International awards, he had a very successful show career as both a kitten and an adult.
Click photo to enlarge!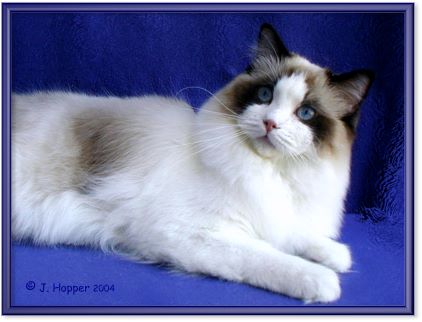 Triple Grand Champion Earthangels Dillon of DixieWillow is a perfectly marked seal bicolor (pictured here at 14 months of age). Dillon came to us from California and is one of the most perfect Ragdolls we ever met. He has a bunny-soft coat, wonderful point color and an incredible personality. This guy's motor never stops and he is the most laid-back furkid you've ever seen'nothing phases him at all. I woke up several mornings to find those beautiful eyes staring back at me, what a sight! Thanks again to Alice Baker for sharing this very special Ragdoll with us.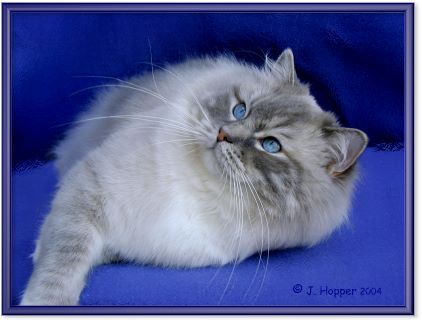 TICA's 2nd Best Blue Lynx Mitted Internationally 2002-2003
TICA SE Region's 2nd Best Blue Lynx Mitted 2002-2003
Champion Dixie Willow's Court Jester is a blue lynx mitted and the littermate to Clarence and Gracie. Jasper (as he was nicknamed) is a complete love-bug. He thrives on attention and this big baby wants nothing more than to be held and cuddled as much as possible. Jasper rolls and flops whenever someone is around, always insisting that you take a few moments to scratch his tummy or play with his favorite toys. He has a beautiful, broad head like his father and the same gorgeous blue eyes as his mom. He is also quite long-bodied with a bunny soft coat. Jasper's babies took their father's incredible disposition, great coat and beautiful type.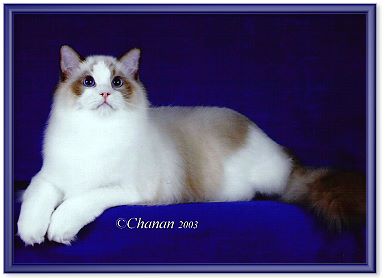 This is Champion Dixie Willow Storm Chaser, a seal bicolor boy from Clarence and Sassie (pictured here at barely 8 months of age). Stormy is a wonderfully marked, very large boy weighing in at over 14 pounds before he was 9 months old. He also has the most beautiful blue eyes we've ever seen. Stormy is such a funny guy, a couch potato who is completely spoiled rotten and never lets you forget it. He loves "people food" treats like potato chips, donuts, and even lasagna, part of the reason his most common nickname is ChubChub. Stormy is a TICA Champion, a CFA Champion, and is working to complete his CFA Grand Champion title. More pictures of Stormy here.