Below are pics and videos from some of our projects over the last 15 years.
.
The Book of Eli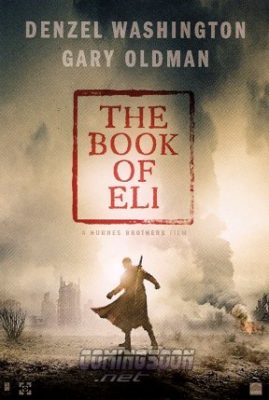 Skyler & Gilligan traveled to Albuquerque, New Mexico,  where they jointly played a role in the movie "The Book of Eli", a post-apocalyptic thriller starring Denzel Washington, Gary Oldman and Mila Kunis.   After nailing a difficult scene in just three takes, Skyler even got a standing ovation from the crew that was led by Denzel himself.  Be warned…it isn't a glamourous role, this cat has survived the apocalypse so both boys had to be made up to appear dirty and grungy.   They were real troopers though and received several compliments from the cast and crew.  The movie trailer can be found here, and Gilligan appears approx 1 minute into the clip.  He's the scruffy-looking critter eating scraps off the table top (it was really cat food).
Both boys made the final cut of the movie.  Gilligan appears in several wide-angle shots of the bar while  Skyler has a couple of nice close-ups meandering across the bar and hissing at Eli.
.
.

Uncross the Stars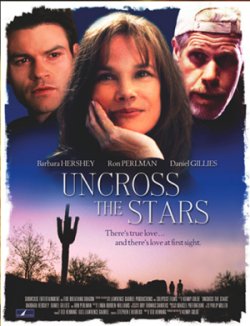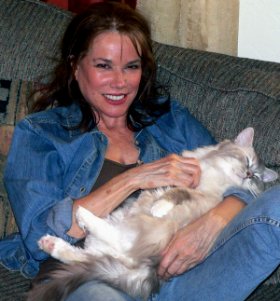 Jasper relaxes with actress Barbara Hershey on the set of an independent film titled "Uncross the Stars".
As you can tell, he was quite smitten!  The movie was originally called Vacuuming the Cat (which gives a big hint about one of Jasper's scenes).
Below is a still shot of Jasper being vacuumed.
At one point, he even rolled over so Barbara could get his tummy.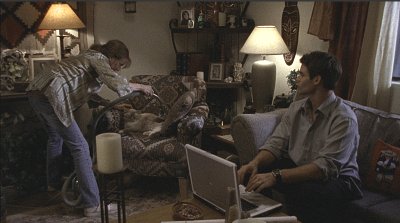 Ragdolls and baseball – a perfect combination!!!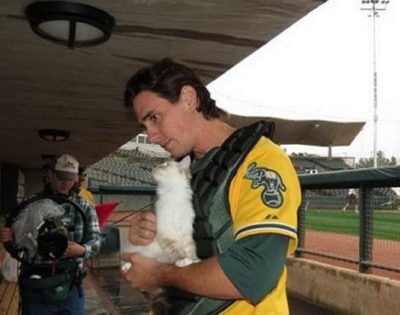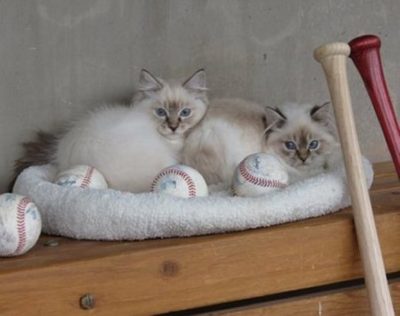 A few of our kids were chosen to be in a tv commercial
for the Oakland A's. They got to spend a day at the ballpark
with several team players and managers as well as a film crew.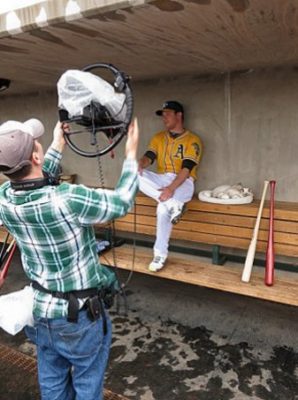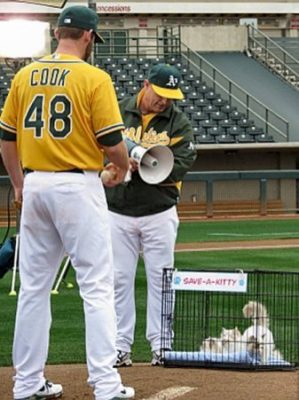 What a fun day it was!! A video of funny outtakes can be found here.
The final Oakland A's commercial is here.


Who says there are great roles for "mature" cat actresses??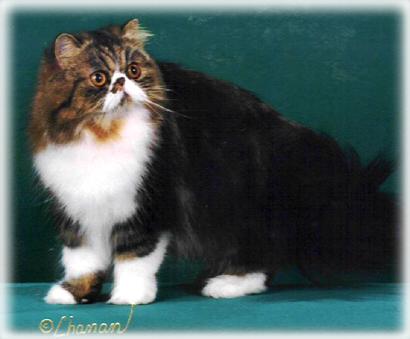 At the ripe old age of 12, our Persian, Maggie, was chosen to appear in a
Petsmart tv commercial.  She was the ultimate professional, lasting through many takes under the hot lights.
Of course, Maggie always knew she was destined to be a tv star someday.
You can see the commercial here and read more about Maggie on our Rest of the Gang page.

Skyler catches a few rays in Malibu!!!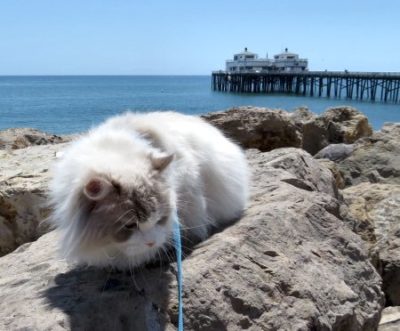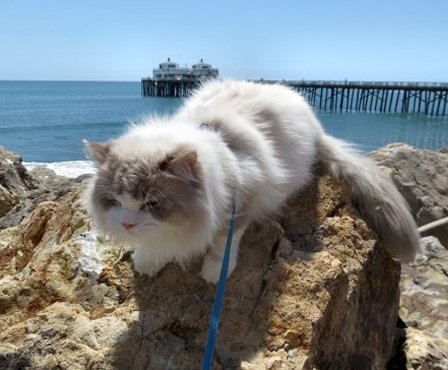 Skyler was chosen from hundreds of cats to be part of a photo shoot for an international telecommunications company.  The shoot was held in beautiful Malibu, California, and Skyler had a wonderful time making friends with the crew.  He also did a great job during his session, nailing a somewhat tricky shot in less than half an hour.  On the way home, we stopped to soak up a little sun at the beach.
Maybe he'll try surfing next time?
.

Exciting News….

Tassels was chosen as the "cover-kitty" for Soft Claws nail caps for cats.

Jasper and his "kitty stunt double", Lucky, made their television debut in the tv movie, S.I.S. Special Investigation Section, on Spike TV.  These blue lynx mitted brothers jointly played the role of "Fluffy, the asthmatic cat" (LOL) and we're glad Fluffy made it through the final editing.  S.I.S. was filmed in the spring of 2008.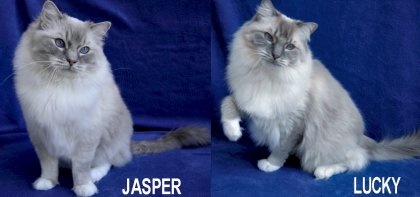 Below are pics of a few print advertisements and product packages featuring our cats and kittens.  Click on any thumbnail below to open a larger image, view a slideshow, or read the complete caption.
Photo credit and copyrights to the original photographer & company including Minute Groom/Noble Studio, Petsmart/American Color Studio, Farnam Co., Soft Claws Co.